October 14, 2010
I hate painting
Today's project:  paint a bathroom.  Fuck, talk about tedious.  At least with a bedroom you can clear out all the furniture, remove or tape any fixtures (outlet covers, etc.) and get the sprayer out.  A bathroom is all edgework -- around the toilet, the countertop, the shower stall.  Fuck me.

Posted by: Hermit Dave at 02:12 PM | No Comments | Add Comment
Post contains 53 words, total size 1 kb.
October 08, 2010
New Gate
I just finished rebuilding the side gate to our back yard. Here are before and after photos: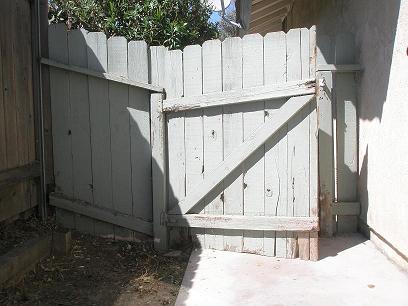 Yeah, it's not perfectly square. Considering the ground is uneven, the post sunk in the concrete (which I didn't try to replace, just stripped and waterproofed) is tilted, and I only used hand tools, it's a pretty good job.
I wish I had Steamboat McGoo's wood shop, but I don't have the space. Not only would it be much easier to get stuff fitted perfectly, jobs would take about half the time.
Posted by: Hermit Dave at 07:01 AM | Comments (3) | Add Comment
Post contains 91 words, total size 1 kb.
11kb generated in CPU 0.02, elapsed 0.0489 seconds.
43 queries taking 0.0364 seconds, 72 records returned.
Powered by Minx 1.1.6c-pink.