November 24, 2010
Chad Knaus wins fifth straight NASCAR championship
Congratulations to Chad Knaus for winning his fifth straight NASCAR championship with the number 48 Lowes Chevrolet.  Yes, Jimmie Johnson drives the car, and he is a damn good driver, but he's not so amazing as to be able to win five straight.
Knaus, on the other hand, is almost certainly the best crew chief ever seen in the sport.  His ability to get Johnson running up front under almost any condition is remarkable.  His knowledge of the tracks, how they change during the course of a race, and how the cautions are likely to fall, is the real reason the 48 team has brought home the trophy for five straight years.
So, congratulations Chad: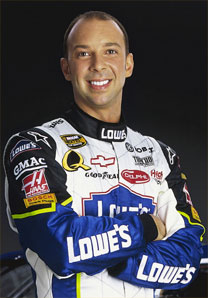 PS.  Denny Hamlin choked and Kevin Harvick is a tool.
Posted by: Hermit Dave at 09:59 AM | No Comments | Add Comment
Post contains 133 words, total size 1 kb.
September 19, 2010
Nibali wins the Vuelta
Congratulations to Vincenzo Nibali for his victory in the General Classification (best overall time) of the Vuelta a Espana.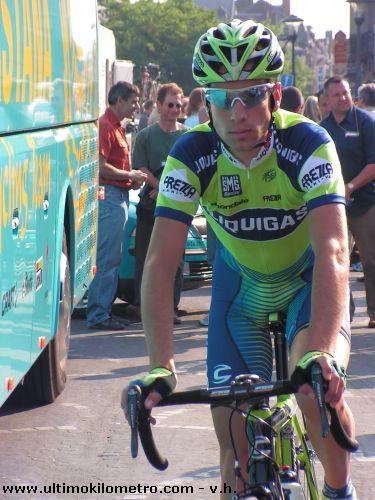 After a grueling three weeks and over 2,000 miles, Nibali rode into Madrid today with a 41 second lead over runner-up Ezequiel Mosquera. Nibali sealed the victory yesterday with an amazing chase of Mosquera up the final climb.
I'm obviously in a small minority in the US, but I just can't get enthused about American team sports anymore. I started losing interest once sports news became more about contract negotiations and arrests than about games. These days, I'll watch a bit of the World Series and some playoff football, but that's about it.
I now mostly watch racing (of all types, but especially NASCAR), and international competition (grand tour cycling, skiing world cup, etc.). NBC Universal is a great sports station for following the international competitions. It's probably the one good product NBC puts out.
Posted by: Hermit Dave at 05:40 PM | No Comments | Add Comment
Post contains 158 words, total size 1 kb.
April 27, 2009
Insane Finish to Talladega 500
I may be mostly a hermit, but somewhere in my family history must be some 'inbred hillbilly yokel' genes, because I like watching NASCAR. Talladega is usually good for massive wrecks and yesterday's race provided even more than the usual destruction.
There were two 'Big Ones' ... where one car starts getting a bit out of line, there's some bumping, and before you know it ... twisted metal everywhere. There were also a few smaller wrecks, including amazing driving saves by Michael Waltrip and Kurt Bush as they were sliding sideways across the infield.
However, the last lap of the race was simply insane:
Edwards is a great driver,but he let his desire to win the race overcome common sense on his second block. To his credit, he not only had enough class and showmanship to run across the finish line, he took full responsibility for the crash. Unfortunately, there were 7 injuries to spectators from debris when Edwards hit the catch fence. Thankfully, most were minor, and the worst appears to have been a broken jaw.
Posted by: Hermit Dave at 03:08 PM | No Comments | Add Comment
Post contains 182 words, total size 1 kb.
April 10, 2009
Belated Congratulations to Lindsey Vonn
I don't follow mainstream sports much these days, but I do follow the World Cup of Skiing. This year, American Lindsey Vonn cemented her spot atop the womens' ski universe by winning her second straight World Cup overall title, as well as the downhill and Super-G titles. Best of luck to her next year in the Winter Olympics, where she'll have the burden of being the heavy favorite in at least two events.
Oh, as an added bonus, she's rather attractive: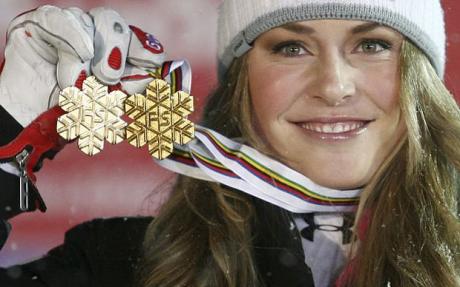 Posted by: Hermit Dave at 06:52 PM | No Comments | Add Comment
Post contains 86 words, total size 1 kb.
13kb generated in CPU 0.03, elapsed 0.0864 seconds.
41 queries taking 0.0666 seconds, 71 records returned.
Powered by Minx 1.1.6c-pink.